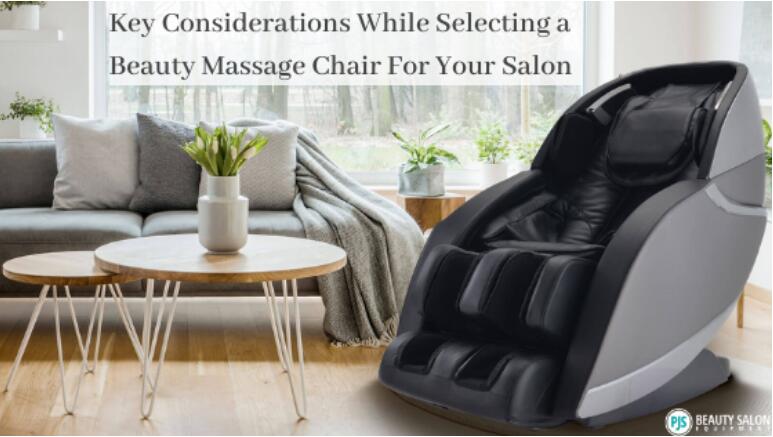 Key Considerations While Selecting a Beauty Massage Chair For Your Salon
With overwhelming options and types of massage chairs available in the market, it becomes difficult for a store owner to have a well-made decision. If you do not give efforts in finding "that perfect" chair, you land up in sheer disappointment.
Salon owners buy these chairs for a variety of purposes, usually for pain relief treatment, relaxation or for various spa treatments and therapies. It doesn't really matter if you buy a Beauty salon chair or a massage chair under $1000 or above that, what matters here is, picking up the best one that gives you the satisfaction & meets your therapy needs.
Select the Right Beauty Massage Chair for Your Salon
A perfect massage chair should be able to relieve your elite customers from neck pain problems, shoulder pain or back pain problems. It should also have a comfortable neck and footrests, which soothes their stress and muscular pain in the body. However, you need to study and understand the parameters before making the final purchase. In this blog, we will guide you with the techniques that can help you in finding the best suitable one for your salon.
Define your needs:
It is worth to take into account the specific needs of buying a massage salon couches. The reason being, it lets you know what features and qualities should you look out for. Various models are designed with an aim to relax different parts of the human body.
Our STER-3 motor treatment couch is made from a metal frame and possesses the utmost stability. The footrest can be adjusted between 0-60 degrees, and the chair size is 185 x 62 cm without armrest, and with armrest, it is 185 x 84 cm.
On the other hand, ULNA: luxury spa table, is a multipurpose electric spa couch. It has 3 motors, which give utmost flexibility to move height, backrest and the central module inclination. It also has a metal base but with a toughened plastic moulding. The size of the couch is 192 x 74 x 95/90 cm. A person coming for the treatment can lay straight on the bed or incline the position as per the comfort. It does a great job in alleviating aches and pain caused after a long working day.
The spectrum of buying beauty salon chairs is limitless, and hence, it is important that you know about, how and which chair type serves the purpose.
Set your budget:
PJS Beauty salon equipment provides you with a range of models, designs, and types of massage chairs. We also provide various accessories that oomphs the functionality of the spa chairs, Pedicure chairs or a manicure chair. We have products ranging for all salon types right from a normal salon to a luxury salon set up. And hence before you spend endless hours browsing options, you should land up on our site, explore the options and pick the one that fits within your budget. Do not worry, our prices are not going to break your bank anyway. We believe that getting the right massage bed is more important at this point in time.
Decide the salon space:
Beauty salon furniture is big and may get tucked in a small space. And hence it is required that you assess the dedicated salon space with your prospective massage chair length. Find out if they can be placed inside without disturbing the look and feel of the entire salon. If you have a tight space, you better go for some compact option which will serve the intended purpose without damaging the interiors. On our site, we have mentioned the dimensions and sizes of each chair type which will ease out your process of selection.
We give our best efforts in developing aesthetically appealing chairs and couches, which will amplify the decor of the salon. Many chairs and couches options come with wheels, and that makes it easy for the owner to move around whenever required easily.
Narrow down your choices and do in-depth research about the company:
When Google is your go-to option for searching, we are sure that you would already have gathered a plethora of options. However, there are a handful of things that you need to take care of while selecting the vendor.
First things first, you need to check out the company's profile. You can not compromise with the wrong vendor for cheap rates. PJS Beauty salon equipment aims at offering classy and functional salon equipment across the UK. Our sleek designs which just amplify your salon's interior with the utmost comfort solutions. We maintain a great relationship with our customers and are well-known to deliver products within the project timeline. Our extensive range of products is available at unbelievable prices.
You need to know if the company extends its after-sale support. Do they provide a warranty for the products sold? Also inquire about the repairs and the schedule for maintenance, once the purchase is made from the vendor. We, at PJS beauty salon equipment, provide a complete solution to all your salon queries. We master in selling state-of-art salon equipment on the decided project delivery date.
You can also check out your prospective vendor's feedbacks and reviews left behind by their customers. We hope this blog helps you to filter out the options and pick up incredible massage couches and chairs options for your beauty salon.