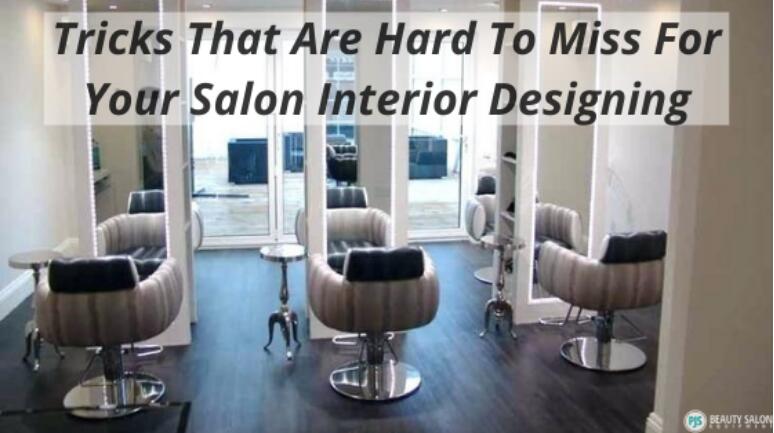 Tricks That Are Hard To Miss For Your Salon Interior Designing
Revamping a salon is both exciting as well as overwhelming feeling at the same time. You have to be specific with the widths, heights, and other interiors to attract the customers whenever they enter your salon. Every small detail is significant to make your customers satisfied. From luxurious beauty salon furniture to the most expensive makeup kits, your customer will hog on every detail. Do not stress out as we have some mind-blowing tips to share. Make sure that you enjoy each and every moment of designing your dream salon.
Coming up with the Edgy Theme
The theme and the furniture you implement in your salon reflects the notion you want to create in your client's mind. If you have a salon in the urban area, you can go with the most trending styles while you can create a simple yet effective salon in the city area. There are endless designs you can perform. Here, we have presented some of the suggestions you can completely go for.
Simple Asian Theme
Every client yearns for relaxation in a parlour as it is "Me" time for him/her. When you have an Asian theme in your salon with elements like bamboo plants, Asian dividers, natural woods, you are offering a great nature retreat to the customers.
Old is Gold
This look drives the customer to the ancient vibes. Why keep the design simple and common? You can use rustic elements, cherry wood finishes, famous ancient paintings, and traditional lamps to upgrade the look of your salon in the most antiquated ways. By using this theme, you are allowing the customers to look and feel like a prince or princess.
Dramatic and Mad Theme
There are customers who are ready to pay a huge amount only for the interiors. So if you want to create a salon that can drag thousands of eye-balls, the royal plus drama-centric theme can be your best catch. Large mirrors, marvellous lights, Huge beauty salon chairs, and eccentric bold walls are the elements you would need to add right away.
Nothing works Best Than Creativity
The whole beauty industry is dependent on enhancing human minds with an array of colours and amazing art. You can paint your Salon Trolley or restyle it with innovative designs. With a little creativity, you can redesign your old equipment to give a wow look to the entire salon.
Give Attention to Every Space
A modern salon is like a coffee shop where your customers also observe the small elements. Therefore as a business owner, you must have the attention to every detail like what curtains will be there in windows, the shade of Salon Furniture or even the entrance door design of your spa or tattoo section. From small flower pot to the washroom interiors and cleanliness, everything needs to be consistent and classy.
Play Out of the Box
When you are designing your salon space, don't just focus on walls, but, also take care of the floor and ceilings designs. You can brighten up your place with catchy colours or simply keep it plain to yield peaceful feels. When you are putting your heart in the salon design, you have the adroitness to end up with something unusual.
Follow a Specific Pattern
Once you are sure of the theme, take it as your base. If your waiting area is of dark colours, don't go for light colours in the internal areas. Don't multiply the theme but ensure that your customers won't feel like they have entered a new salon by seeing the spa area. The colours must also be in proper coordination from start to finish.
Go Eco-Friendly
Not always new fixtures and expensive interiors make a statement, you can also decorate the space with natural greens. You know that these plants will clean the air and it also has the ability to change the mood of your customers. They will have fresh air and feel rejuvenated. You have to be more careful in choosing the plants as their maintenance can be overwhelming. Try some soothing interiors when you are choosing this kind of interior design.
What are the Things to Avoid In-Salon Revamping?
Don't be a Clutter Chick
A salon that is cluttered is messy, unorganized and looks completely unprofessional. Why would a client prefer a clutter salon space when they have some of the cleanest and up-to-date salons near-by? If you want to be successful in the salon business, cluttered space is a big no-no. Remove the plants which are unattractive. Keep your magazine rack organized with some new and interesting magazines. Make sure all the boulders in your salon space look clean and equipment are also in the best working condition. Even when you have numerous customers to take the service, you have to ensure the cleanliness first.
Don't Be Afraid of Experimenting
We all take a lot of inspiration for the salon designs that we forget about what we wanted at the initial course. Yes, depending on the internet is cool, reading articles and grasping the latest trend is uber cool. But what's not cool is not showing your personality and expertise in your interiors. If you are a good painter, showcase all your paintings in your beauty parlour. Keep photos of your favourite celebrity. Bring down quotes that are in your mind. Make your salon as your favourite fairy tale. Be bold, try colours you would never ever use in your salon. Experiment with amazing lights and create a different mood in your salon.
Keep Long-term Approach In Selecting the Theme or the Design
The traditional theme is fine, but make sure the elements you are using are not out of fashion. It is not a good idea to install a retro salon which can date easily in the long run. Also, ensure that you are not having a salon in the old building which looks like a haunted place. Try to implement modern fixtures and give importance to advanced tools. You can also hire an interior designer when you are confused about the theme. Additionally, the designer would help you with the theme in a stipulated budget.
We hope you would like to relish inspiration from the above designs. Also, forget the things which are a strict no-no like a messy or outdated salon. Assure that you plan the interiors as per the space you have. If you are on a tight budget, make effective use of hand-made accessories. Last tip: Awake your inner designer and paint your imagination in the most creative way.